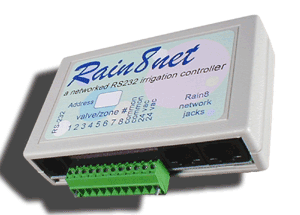 Introduction
The Rain8 Irrigation controller plugin is a Luup Component that allows the remote control of a Rain8net RS-232 Irrigation controller. The rain8net is capable of controlling 8 zones per module, with a total of 2,040 zones daisy-chained from a single RS-232 port. Each zone can be controlled individually, each with a separate safety timer shutoff, in case the controller looses communication. Each unit also contains one input for a pulse type flow meter or rain sensor.
Note
This plugin is still in development and not yet ready for public use.
Warnings
Most sprinkler power-supplies can only turn on two sprinkler zones at a time. Use caution when enabling multiple zones at once.
It is important that you properly configure your Rain8net to automatically turn the zones off in a reasonable amount of time. Just in case the controller losses communication, you don't want your sprinklers to run too long.
Users Guide
Create a Rain8net device as usual, assign a room, configure the serial port for 4800 bps 8 data, no parity, 1 stop bit, and click Save. This creates a device which represents the Rain8net network. Assign the Serial port that you connected to the Rain8net module. To add controls to the network, click on the settings (wrench in the top-right corner):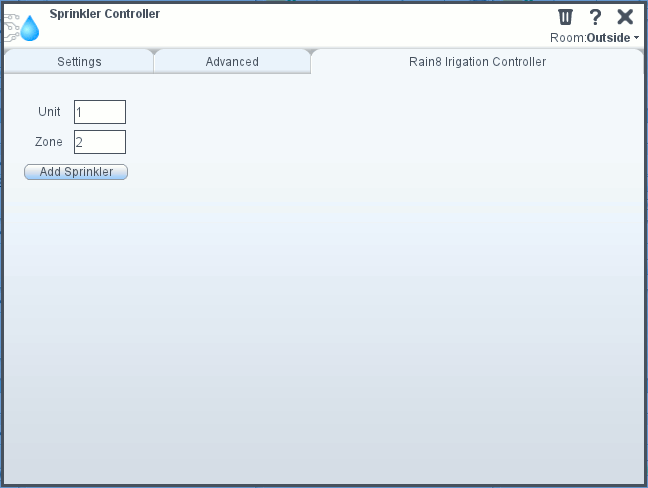 Type in the unit and zone address for the sprinkler you have and click "Add Sprinkler". This will add a new device in the same room as the controller which controls the individual sprinkler zone.

Now you can turn each zone on and off with the buttons on the main window. Note: you can also change the name of the sprinkler to something more descriptive than the defaults.